Map of Toronto Mortgage Brokers
Toronto mortgage brokers includes agents in Old Toronto, Scarborough, North York, York, East York, and Etobicoke.
Featured Profiles
Deren Hasip
About
Deren Hasip is the founder of Mortgage Scout where he works as senior mortgage agent and broker coach. Deren's success did not come easy. He started his career on the ground floor as a teller and gradually leveled up. He was eventually promoted to advisor and manager until reaching the position of bank executive. During his 20 years of experience in retail banking and mortgage origination, he worked in many banks, most of which are rated as Canada's top banks.
Because of his expertise and professionalism, Deren was nominated for the Ontario Premier's Award in 2002. One of Canada's top 5 banks profiled him as a Mortgage Expert in its national media campaign. Additionally, he supports several charities and community programs. During his working hours, supportive and loyal to his clients, Deren is constantly searching for structuring solutions and improving the financial statuses of his clients. On the other hand, his satisfied clients use three words for describing Deren's personality – knowledge, integrity and commitment.
Services
The goal of Mortgage Scout and its broker experts is building their clients' wealth and helping them achieve their home ownership dreams.
Based on a strong network of professionals, the company's services, advices and expertise extended far beyond its immediate resources. All in all, the company offers the following services:
Reviewing your options as a first time home buyer
Existing Mortgage Health Check
Refinancing mortgage
Investment properties
Unique solutions with Credit Unions, Alternate and Private lenders
Solutions when dealing with bruised credit
Residential and Commercial Real Estate
Family and Real Esate Law services
Insurance (Home, Auto and Life)
Investment Planning
Will and Estate Planning
Home Inspection
Contact
Address: 1796 Bloor St. West, Toronto, ON M6P-3K5, Canada
Phone: 647-362-5472
Email: deren.hasip@mortgagescout.ca
License: M15001201
Website: https://www.gtamortgage.expert/our-team
---
Kim Gibbons
About
Kim Gibbons or popularly known as the Mortgage Superhero is a Mortgage Broker and founder at Mortgage Intelligence. With over 24 years of experience, dedicated work and access to more than 50 lenders, she is on top of her field.
As an Accredited Mortgage Professional, Kim provides her clients with the highest standard of services. She considers your priorities her own priorities and your interests her own interests. She believes that the key to successful partnership is converting the mortgage "process" into a "relationship" process.
Services
Mortgage Intelligence offers a plethora of professional and high standard services. Some of those services include:
Home purchases
Refinances for debt consolidation (reducing the overall monthly payments) and refinances for home renovations or investments
Mortgages for self-employed people
Investment properties
Investment in vacation or second home properties
Mortgages for people with former or current credit problems
Commercial mortgages
Regular updates regarding market conditions
Regular updates regarding factors relevant when making homeowner decisions.
Simply put, the services Mortgage Intelligence offers can be divided in three sections:
Purchase – includes purchasing properties like principal residencies, first homes, investment or rental properties, cottages or vacation homes and second homes for relatives. The company keeps an eye or rates and terms and presents you with all available options. It also helps you set up with a pre-approval and advices you about which option to choose and how to get the best mortgage deal.
Refinance – tailors the right mortgage for you based on your particular financial situation.
Renewal – keeps you updated about your lender's renewal policies, terms and conditions. All potential changes are announced upfront.
Contact
Address: 210 Victoria Street, Toronto, Ontario M5B 2R3, Canada
Phone: 416-400-8107
Cell: 416-400-8107
Mortgage license: M08001363
Website: https://mortgagesuperhero.com/
---
Calum Ross
About
Calum Ross is a wealth advisor and principal broker of The Mortgage Management Group (TMMG). He finished his education at the prestige Harvard Business School and the Schulich School of Business at the York University.
Calum has personally funded more than $2.5 billion dollars of residential mortgages. With such astonishing achievement, he is one of the single largest producers in the Canadian mortgage industry history. When it comes to matters relating to mortgage and real estate market, he is regularly consulted by many pension funds, government policy makers and federal mortgage insurers. He is involved in the Soros Fund Management and the Goldman Sachs.
Calum won the Canadian Mortgage Award for Mortgage Broker of the Year and for Best Customer Service in 2014. He also won the Canadian Mortgage Award for Mortgage Broker of the Year in 2016. Additionally, Calum contributes in some of the Canada's most credible media sources like BNN, CBC, CTV, CMP, Global, The Toronto Star and The Huffington Post.
Last but not least, Calum does not rest on his laurels. He frequently implements new solutions for improving the customer services of his company and upgrades his knowledge. He also invests in employee education and customer service training.
Services
The Mortgage Management Group offers trusted and high-quality services that can be categorized as:
Mortgage services – simple guides for existing home buyers and first time home buyers.
Refinance and saving services – help in debt consolidation, home equity assessment and lowering the interest rates.
Real estate investing – building solid net wealth through proper mortgage financing.
Contact
Address: 2115 Bloor Street West, Unit 2, Toronto, Ontario M6S 1M5
Phone: 416.410.9905
Email: clientcare@calumross.com
License: M08005413
Website: https://www.mortgagemanagement.ca/
Best Mortgage Rates in Toronto
Mortgage brokers can negotiate better rates for you than the major banks. Contact a local mortgage broker in Scarborough, York, East York, Etobicoke, and Old Toronto and begin your first step to financing your dream home. Looking for the lowest rate isn't often the best way to find the right mortgage. You have to understand all the features and your personal or family situation to pick the right mortgage. Contacting a local agent near you can help you with your search and save you time and money.
Mortgage Broker Pros
In most circumstances, mortgage brokers provide their service for free
They are licensed
Provide comparison shopping: They survey several lenders and can provide you with pros and cons of each lender saving you a lot of time
All negotiations are handled for you by an experienced agent
Usually greater flexibility in meeting with a mortgage broker over banks, however, banks do have mobile mortgage agents with greater flexibility as well
If you find an experienced agent, you'll have the benefit of access to their in-depth knowledge and experience. Many have been mortgage specialists at the banks or have experience at the banks in other lending or related roles
Resources for Toronto Home Buyers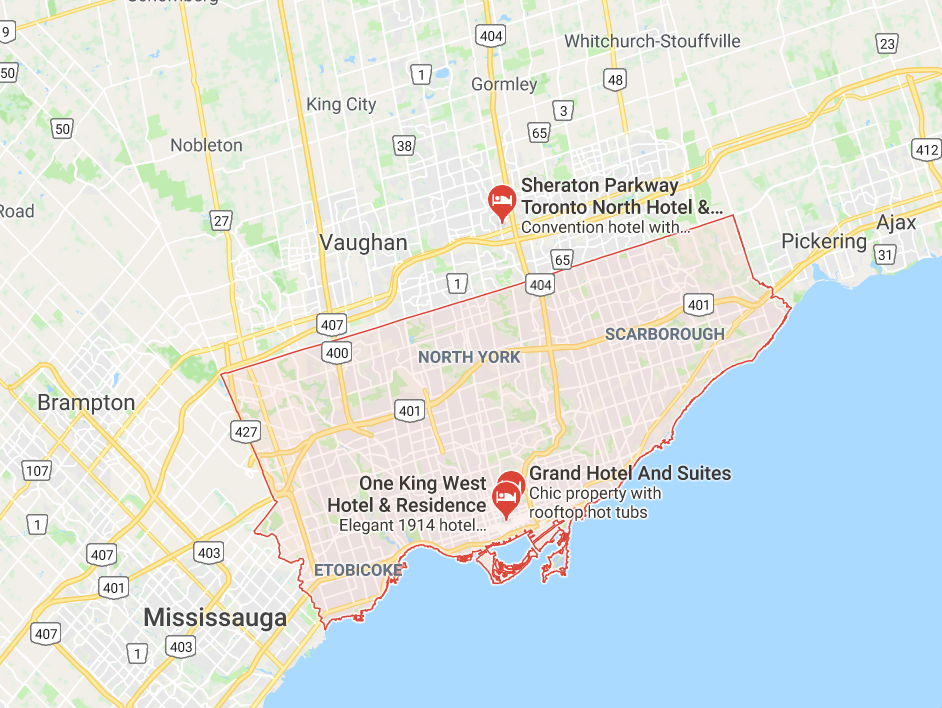 Toronto is the capital city of Ontario. It has a population of 2.7 million (2016 census). It's considered one of the most multicultural populations in the world with over 200 ethnicities living in the city and 160 languages spoken.
It's a vibrant city with a high median income of over $98,000 (City of Toronto, 2015) and an unemployment rate of 7.2%.
Average rent for a bachelor's apartment is $962 (Fall 2016).
Average rent for a 2-bedroom apartment is $1,137 (Fall 2016).
Toronto is made up of the following districts: East York, Etobicoke, North York, Old Toronto, Scarborough, York.
City of Toronto Videos

Links About the City of Toronto
City of Toronto – The official City of Toronto website. You can learn a lot about the city before moving here from this website. One particular section that may be of use for you is their Moving to Toronto section.
Wikipedia: Toronto – Always a good source of information on just about everything.
blogTO – Famous local blog on Toronto and the surrounding area.
Mortgage Brokers Nearby