One reason I've stayed out of real estate for a long time is because I keep thinking it's overvalued.
But, take a look at how much real estate is part of our GDP in Canada. Source: Statista.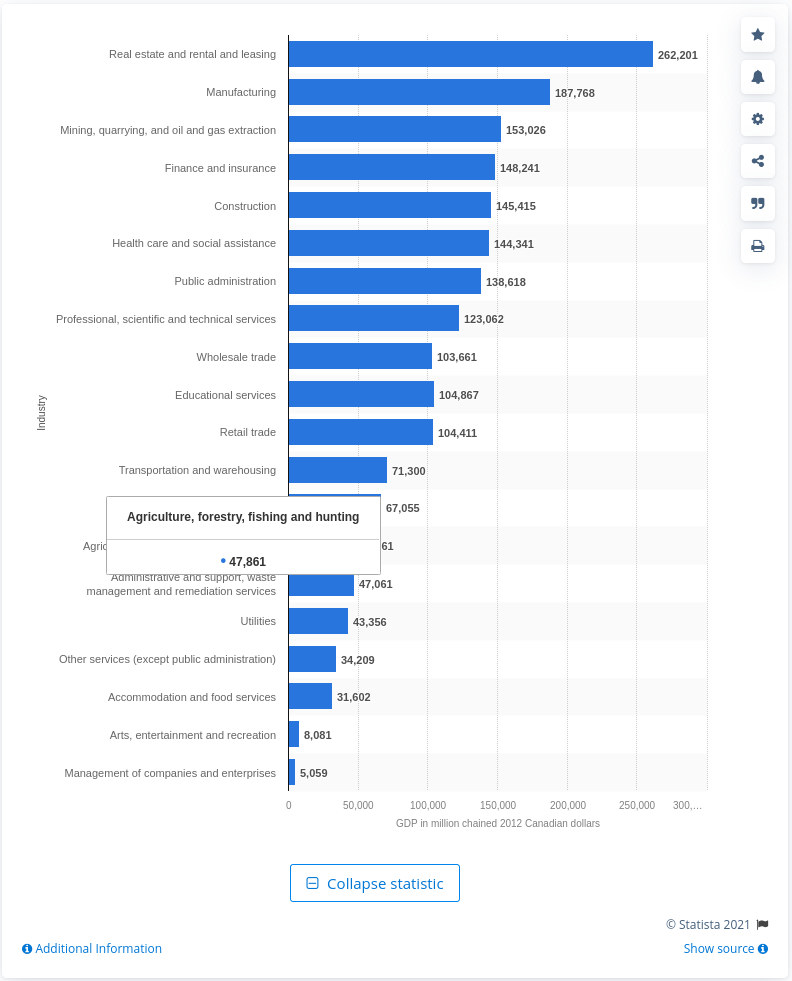 It's a huge portion. It's the biggest portion of our GDP.
And then look at this headline article about all the indicators of money laundering going on here in Canada from the real estate industry.

It's crazy. Note the headline is only talking about the GTA! It doesn't even include Vancouver, or the rest of Canada.
But, I think because the government knows about this. And because it's manipulated so much by powerful people. It's not going down. It's just going to keep going up.
I remember reading a headline a long time ago by Eddie Greenspan, one of Canada's most famous lawyers and he was responding to someone about commiting a crime between Canada and the US. And he said, "If I was going to commit a crime, I would do it in Canada."
We're a haven for criminals because we won't and don't do anything about it. And we have a crazy legal process that gives criminals so much power. And probably the politicians are in on it too. I've heard from people in the industry who have said they know politicians directly involved in the manipulation.
So, if you keep waiting, I don't think it's a good idea. Land is limited. Prices are just going to keep going up. And if you're waiting for a crackdown by the government – there's no way. There are too many powerful people running the show and it's not the government.
And why would criminals be afraid of a crackdown by the government? It's not like we're in China. Nothing will happen to you if you get caught. Only in Canada will you get crazily penalized if you own up to your mistakes. But, if you get caught, we won't punish you too much because that would be undue hardship on you. The government doesn't really care if you're one of the thousands of young people sapped of your dreams from owning a home. They don't want to hurt the criminals.
The other thing to look at is how much mortgage debt Canadians have piled on. Canadians have leveraged themselves to the hilt. The government isn't going to raise interest rates and cause a panic with homebuyers even though they took on excessive risk.
What is happening is that the savers and prudent investors are left behind because they may have waited to get a bigger down payment, while people taking on riskier loans get to move ahead.
Now, that sounds normal in the stock market because often if you don't take risk, you can't make huge rewards. But, in the stock market, when you take big risks, you also have the potential of losing a lot of money too. That is what risk is about. You can take on big risks, but, you have to accept gains OR losses.
That's not the case with the mortgage market in Canada. The government is supporting risky behaviour by manipulating the interest rates and keeping it low. The consumer doesn't have to worry about high interest rates and making prudent decisions and saving because they know the government won't raise rates much.
So, in effect, you are able to take on risk while getting backed by the government. It's supporting the risky behaviour and penalizing savers and prudent investors. But, that's Canada.
So, I don't think it's of much use waiting for a good time to buy. I can't forsee what would cause the housing market to crash, other than high interest rates. And as I said, I don't forsee the government letting that happen.
It could pause, but, crash, I don't think so. Too many powerful people, and the government needs it to keep it going up. It's not like the stock market where you can make money when stocks go down. Housing prices need to go up.
Finally, there is also real estate agents involved in manipulating the market.
And this was investigated 5 years ago with another similar outcome.
Here is something about price manipulation.